Sadly, it is not uncommon that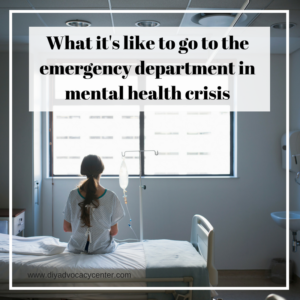 a family will turn to their local emergency department to help them when their child is in an emotional crisis, yet they will find little hope for the right kind of care for that type of crisis in that setting. This is another example in a long chain of family experiences and mounting evidence that emergency care needs to be changed when it comes to our kids with emotional, mental, developmental, and other behavioral conditions. If anyone in Oregon is interested in getting involved in the legislative process working to address emergency department care for mental health, please contact me: [email protected]
Excerpts from a mother's recent experience:
I asked for guidance on having him admitted for a mental health evaluation through the emergency room.

My son subsequently spent 27 days in a locked windowless metal room with a metal table and a cushion for a bed, because we were told there are no inpatient or crisis placement beds in Lane County for children with developmental disabilities.

In the end, after being denied placement in a specialized program, we brought him home on day 27.


My child suffered needlessly as we were led to believe there was no other choice for him. During the entire stay, my son never received any behavioral therapy or treatment. He was simply boarded and medicated.
Read the full article here:
Locking child in ER shows that system is broken By Anna Richards