This page will not link you to crisis services.  If you or someone you know is in immediate crisis, call the National Suicide Prevention Lifeline at 1-800-273-TALK (8255).
Help is always available at the Lifeline.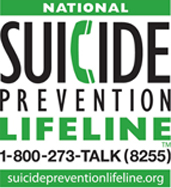 No matter what problems you're dealing with, whether or not you're thinking about suicide, if you need someone to lean on for emotional support, call the Lifeline.
How do I know if this is a crisis?
If someone you know is showing signs of hurting him or herself or someone else, and you do not have the skills and resources needed to help them cope with their emotions and unmanageable behaviors in a way that keeps themselves and others safe, you are facing a crisis situation.
The situation is an emergency and immediate action is needed if someone is:
threatening to hurt or kill him or herself, has a weapon or other lethal means,
looking for ways to hurt or kill him or herself, talking about a plan to do so
talking about death or suicide and is acting anxious or agitated
talking about death or suicide and is intoxicated or "high" on drugs
Take Action:
Call 911 or the National Suicide Prevention Lifeline: 800-273-8255
Do not leave the person alone.
Remove all lethal means (weapons, medications, etc.) from the vicinity.
Take the person to a nearby Emergency Room or walk-in psychiatric crisis clinic.
Do not put yourself in danger; if you are concerned about your own safety, call 911.
What to expect when I call the hotline (click for more info):
First you'll hear a message telling you that you've reached the National Suicide Prevention Lifeline.
You'll briefly hear some hold music while they connect you.
A skilled, trained crisis worker who work at the Lifeline network crisis center closest to you will answer the phone.
This person will listen to your concerns, provide support on the phone, and share resources that may be helpful to you.
Remember, your call is always confidential and free!