Success for Families – two sessions in a row!
DIY Advocacy Center's Julie Magers has championed new mental health laws in Oregon, along with colleague Jerry Gabay and Oregon Representative Alissa Keny-Guyer.  With the cherry blossoms in full bloom, this power team convened a hearty group of allies, including advocates, families, young people living with mental illness, organizations supporting children and families, health care system representatives, elected officials, government staff, and more.  It is a true example of how parties with disparate views and perspectives on a topic can successfully find a way to communicate and agree that "something" needs to change.   Julie and Jerry didn't settle after the 2015 session and returned to the Capitol with many other family advocates to expand on these early successes in the 2017 session.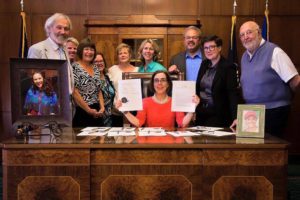 "It was a HUGE honor to be at the ceremonial bill signing of HB2023 and HB2948, the "Susanna Blake Gabay Act," both of which aim to improve mental health care in part through engaging family and community more, when appropriate. Although Susanna, pictured here in the portraits, took her life and was not with us in person, she lives on in people's hearts and will continue to provide a light for others suffering from mental illness." –Representative Alissa Keny-Guyer
We are all honored to be among the power team that brought these "consumer-driven" bills from concept to law, including Susanna's father Jerry (shown here with Susanna's mom, Susan), Julie Magers and her daughter Riley, Cherryl Ramirez, Amy Baker, Rep. Lew Frederick, Rep. Joe Gallegos, Rep. Mitch Greenlick, Chris Bouneff, Jen Corbridge and the many families and individuals who shared their heart-breaking, as well as hope-filled stories.
Learn more about: 
Summary of Discharge Requirements:
The Oregon Health Authority has prepared an overview of the rules on what hospitals are required to do for and with patients and their families or other designated support persons when they are seen in an emergency department and before a patient is discharged from an inpatient psychiatric setting.
Feeling insecure about the process?

Learn

how to track bills, when hearings are scheduled, how to submit written comments, how to attend and present your views, when votes happen, and more!